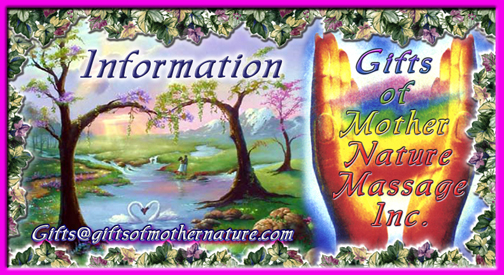 Welcome
The Many Benefit of Massage
Enhanced feelings of well-being on both physical and emotional levels.
Reduces stress. There is less muscle tension and soreness. Relief from
headaches. Massage helps the body eliminate toxins. it improves blood
and lymph circulation. It can also lower blood pressure. With a regular weekly
massage you will find enhanced flexibility and increased range of motion
in the joints. With relief from mental and physical fatigue you will have
improved ability to concentrate, less anxiety, less stress and a much
sounder sleep. Massage can help overcome sleeping difficulties. Regular
massage keeps you balanced. It is an easy way to take care for yourself. And
the simple truth is , if you take time for yourself, you will have a more positive
outlook, be less stressed out and tense. You can have more energy to be
effective and in control of your life at both work and home.
So go on, pamper yourself, just a little. Have a massage!
Ask about our VIP card and our
Bonus Referral Incentives
Make Your Appointment
Today!!!
813-571-1671
813-263-6132
Fax 813-571-1693
209 South Moon Ave Brandon, Fl 33511
Gift certificates available.
Our Gift Shop Carries a full line of essential oils, aromatherapy,
massage oils, potpourri, crystals, bath herbs, sea salts,
body scrubs, dream pillows and much more.
This page is to give you general information that can help you Please e-mail or Call me for more knowledge

Modalities

Relaxation stress Reduction
1 hour

This massage promotes health and relaxation by relieving
muscle tension and improving circulation. The muscles
throughout your body begin to systematically relax with the
rhythm of the massage. As you relax, your brain will receive
signals to trigger the release of chemicals that reduces stress
and produce feelings of wellbeing. The therapist uses several types
of strokes light, gentle, gliding strokes, kneading the muscles,
compression and percussive movements along with a gentle
stretching of the body to achieve this end. A scented massage oil
of your choice is used.



Stress Relieving Seated Massage
15 - 30 minutes

Unlike a traditional massage, you are fully clothed. The massage
is given in a special massage chair. Your upper body - neck, back and
shoulders are massaged to relieve tension and muscle tightness. With
the thirty minute session the head, arms and hands are also massaged.
This is a quick and inexpensive way to relieve stress when you're having
one of those days.



Heated Stone Massage
11/2 hours
Smooth polished Basalt Lava stones are heated with essential oils and
then placed on the body. The body is then massaged with both hands and
warm stones. This is a luxurious and relaxing massage, creating harmony
and a positive energy flow. Some benefits are: Stimulates the Circulatory
system. Increases range of motion. Improves the metabolic rate.
Detoxification of the body. Relief from temporary back and neck pain.


Raindrop Therapy
1/2 hour
Drops of Aromatherapy essential oils are warmed and dropped on the
spine. The oil is then massaged into the back. Increases energy levels
and helps with relaxation and can also reduce back pain.


Reflexology Session
Reflex zones in the feet are mapped out in specific areas, each corresponding
to a particular body part, organ or gland. The therapist applies finger and thumb
pressure at varying depths and durations to the zones of the feet. Increase in
circulation, and enhances relaxation. Relief of stress and nervous tension.


Sports Massage
1/2 hour
This massage is recommended for enhancing your endurance and stamina,
increasing your flexibility and range of motion. Sport massage helps decrease
the chance of getting injured, while enhancing the recovery of your muscles.
This is done by compression, percussion and kneading the muscles.
Mild stretching is also used.


Therapeutic/Deep Tissue Massage
1/2 hour - 1 hour
This massage enhances the recovery of your muscles, facilitating the repair
of injured soft tissue with a focus on lasting pain relief. Muscles are slowly
loosened with light pressure. This progresses to deep pressure causing
myofascial releases. Used for relief of muscle tightness, chronic pain and pain
of acute injuries. With Deep Tissue, deeper pressure is used to penetrate
the underling muscle layers.

Mango Hand Peel
Don't let your hands reveal your real age. This non surgical hand lift creates a
gentle exfoliation process by lifting dead cells from the skins surface
creating healthy radiant looking skin. Both hands and wrists are then
massaged with a nourishing Anti-oxidant oil.


Hand and foot massage with paraffin
1/2 hour
Feet are soaked in a special blended foot bath. Next, hands and/or feet are
dipped with several layers of warm essential oil paraffin and wrapped.
The paraffin is then removed and the feet and hands are massaged with a
cooling, relaxing, rejuvenating lotion. Smoothes and revitalizes the skin.
This massage helps with arthritis and joint pain. Increases circulation.


Reiki Session attunements
Reiki is a Japanese word meaning "universal life energy". This energy
is used to help the body to heal on all levels - physical, mental, emotional
and spiritual, and become free of blockages. Reiki clears and heals
the energy pathways, allowing the life force to flow in a healthy and
natural way.

Chakra Balancing Session
There are seven major energy centers called Chakras on the body.
It is important to keep the Chakra open and increase our energy flow.
The more energy we let flow, the healthier we are. Illness in the
system is caused by an imbalance of energy or a blocking of this flow
of energy. The therapist moves from one Chakra to the next until the
blockage is removed and the flow of energy is increased to the
entire body. Giving a sense of peace and renewed energy.

Rose Petal Massage
70 minutes
Take time to stop and smell the roses. Immerse yourself in a total
relaxation experience. Your massage begins with you being
cocooned in a warmed comforter, breathing in the sweet smell of roses.
A exotic blend of warmed rose, sandalwood and ylang ylang
essential oils are massaged into the body. Makes your skin silky
smooth. Feel like your floating on a cloud, as all your stress melts away.

Therapeutic Touch Session
The goal is to facilitate the integration of the body, mind
and spirit. What is manipulated is the energy field surrounding
the body, not the body tissue itself. The hands are used to
focus and direct the energy to restore balance and wellbeing.
Promotes relaxation, reduces pain and can accelerate the
healing process.


Crystal Healing Session
Various crystals are put along the meridians of the body to
unblock energy flow, thus promoting a sense of balance,
energy and peace.


Ear Candling

A soothing treatment for the ears. Removes old ear wax and toxins.
Helps to relieve pressure, wax buildup and inner ear blockage.
A wax cylinder is gently placed in the ear and lit on the opposite
end creating a slow vacuum. A special soothing oil is dropped
into the ear both before and after treatment.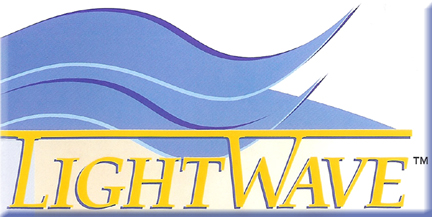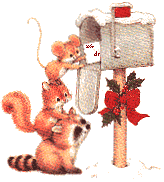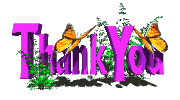 Come Back Again
Kathie Lottman-Brown, LMT
MA35121 MM11949

813-571-1671
813-263-6132
Fax 813-571-1693
209 South Moon Ave Brandon, Fl 33511